The Buckler of Bre



Original Airdate

Season

1

Episode Number

31

Previous

Next
Entering Tir Na Nóg, Torc steals a powerful weapon that allows him to challenge the Mystic Knights.
Torc manages to sneak into Tir Na Nóg and steal a powerful magical weapon known as the Buckler of Buckler of Bre.
Once he finds them, Torc uses the Buckler of Bre to block the Mystic Weapon's energy, and fire several different kinds of lighting bolts at them, including spells like the Lightning Grip and the Exploding Ball.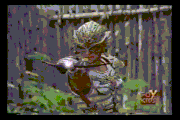 The Buckler of Bre has never been identified as a Mystic Weapon or if it even has Mystic Armor at all.